Collection: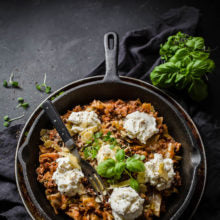 Collection:
Skillet lasagna
Skillet lasagna
Regular price

Sale price

$12.75
Lean Ground chicken breast, cooked with chopped cabbage instead of noodles, seasoned with fresh basil and Italian seasonings, and cooked in with a tomato marinara. Topped with fat free cottage cheese and fresh basil. 
Calories: 259 Pro: 44 Carb:15 Fiber:4 Sugar:9 Fat:2
Ingredients: Chicken breast, cabbage, basil, ff mozzarella, ff cottage cheese, italian season blend, garlic, onion, olive oil.